Jennifer A.

Marles
*
Partner

M.Sc. (Biochemistry)
* Practicing through a Law Corporation
CONTACT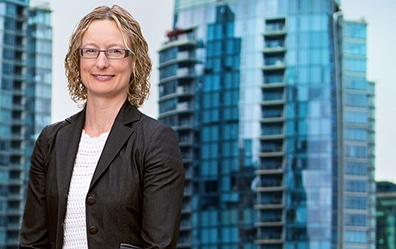 t:
604.669.3432 Ext. 8967
604.669.3432 Ext. 8967
jmarles@patentable.com
My V-Card
Connect with me
Refer

Jennifer
Biographical Details

Representative Matters

Case Studies

News & Recognition

Associations

Publications

Speaking Engagements

Community Involvement
Jennifer A. Marles focuses her practice on helping clients develop and manage their intellectual property assets, particularly patents. Her focus is on clients in the life sciences space, including those involved in developing novel medical devices, chemical compositions, biologics and pharmaceuticals. She also assists clients to protect mechanical devices, and with contracts relating to their IP, including copyright and licensing issues relating to software. Jennifer also provides clients with opinions on issues such as patentability, trademark registrability, and freedom-to-operate.
Jennifer's clients include a broad range of early stage and established companies and universities. She has helped her clients to patent inventions such as safety syringes, natural pesticides, new formulation technologies, and building components on a global basis. Jennifer has filed many provisional and PCT applications, and has assisted clients with optimizing their intellectual property protection strategy globally, including in China in conjunction with Chinese counsel.
She was awarded the Law Society Gold Medal for graduating at the top of her class in 2006 at the University of Victoria, and also received the J. Edward Maybee Memorial prize for earning the highest mark overall on the 2009 patent agent's qualifying examination.
Starting her career in IP law with Oyen Wiggs as a summer student in 2004, Jennifer returned as an articled student in 2007, and then as an associate in 2008. She became a partner of the firm in 2015. Jennifer has served as an adjunct professor at the Peter A. Allard School of Law at the University of British Columbia since 2008, where she lectures on copyright law.
Representative Matters
IP counsel to a local medical device company throughout both the development of its IP portfolio and the due diligence involved in the offering for sale of that IP portfolio.
IP counsel to a local chemical company engaged in the development of environmentally friendly pesticides and agrochemicals.
Work with the technology transfer offices of universities and research institutions to protect their inventions.
Assisted with evaluation of freedom-to-operate issues for a client in the field of carbon capture.
Assisted clients with the filing of protest submissions of prior art and re-examination of patents to help ensure their freedom-to-operate.
Associations
Law Society of British Columbia
Canadian Bar Association
Intellectual Property Institute of Canada (IPIC)
Publications
Buonassissi, A.D. and Marles, J.A. "Potential Copyright Liability for the Use of 'Free' TV Streaming Devices in Canada", 2017, 33 CIPR 123.
Law, G.S., Marles, J.A. "Monsanto v. Schmeiser: patent protection for genetically modified genes and cells in Canada." Health Law Rev. 2004, 13(1):44-7.
Marles, J.A., Dahesh, S., Haynes, J., Andrews, B.J., Davidson, A.R. "Protein-protein interaction affinity plays a crucial role in controlling the Sho1p-mediated signal transduction pathway in yeast." Mol. Cell. 2004, 14(6):813-23.
Jahn, M., Chen, H., Mullegger, J., Marles, J., Warren, A.J., Withers, S.G. "Thioglycosynthases: double mutant glycosidases that serve as scaffolds for thioglycoside synthesis." Chem. Commun., 2004, (3):274-5.
Jahn, M., Marles, J., Warren, R.A., Withers, S.G.. "Thioglycoligases: mutant glycosidases for thioglycoside synthesis." Angew Chem Int Ed Engl. 2003, 42(3):352-4
Speaking Engagements
"Purposively Construing the Boundaries of Patentable Subject Matter in Canada: Diagnostic Methods as an Example", Canadian Bar Association, BC Branch Intellectual Property & Technology Law Section Meeting – (15 June 2016, Vancouver)
"IP Law for The Non-IP-Lawyer", Canadian Bar Association, BC Branch and Victoria Bar Association Meeting – (24 September 2014, Victoria)
"Balancing Disclosure and Monopoly in Canada–The Promise Doctrine", Inter-Pacific Bar Association Annual Meeting and Conference – (14 April 2014, Vancouver)
"Primer on Canada's New Anti-SPAM Law (CASL)", Canadian Bar Association, BC Branch – (18 February 2014, Webinar)
"IP Law for The Non-IP-Lawyer", Canadian Bar Association, BC Branch – (20 November 2013, Webinar)
Community Involvement
Tutor, Patent Agent Tutorials – Intellectual Property Institute of Canada, 2018
Member, Intellectual Property Institute of Canada – Patent Practice Committee, 2013-present
Member, Patent Agent Examination Board, 2014-2016
Member, Intellectual Property Institute of Canada – Canadian Intellectual Property Office Joint Liaison Committee (Trademarks), 2009-2013