Roni M.

Jones
Senior Associate

B.A.Sc. (Materials Engineering)
CONTACT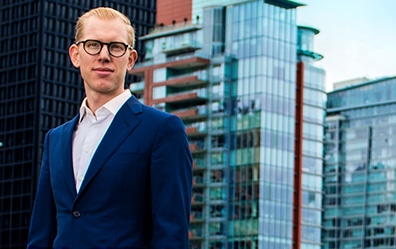 t:
604.669.3432 Ext. 8972
604.669.3432 Ext. 8972
rjones@patentable.com
My V-Card
Connect with me
Refer

Roni
Biographical Details

News & Recognition

Associations

Publications

Speaking Engagements

Community Involvement
Roni Jones assists clients with all aspects of identifying, protecting and benefiting from their intellectual property, with a particular emphasis on preparing and prosecuting patent applications in the industrial, mechanical and computer-related fields. Roni's technical background allows him to delve into his clients' technologies to better identify and serve their needs.
Whether it is a startup or an established organization, Roni is passionate about his clients' businesses and enjoys learning about their respective technologies and industries. He has experience working with technologies in a wide range of industries such as sporting goods, oil and gas, forestry, construction materials, consumer electronics, financial software, audiovisual software, medical devices and many others.
Roni also has experience with advising his clients in litigious matters and negotiating and preparing intellectual property transactions and licensing agreements.
Roni attended law school at the University of British Columbia, where he obtained his Juris Doctor in 2013. He was called to the Bar of British Columbia in 2014 after articling at the firm. Prior to studying law, Roni obtained a Bachelor of Applied Science degree in Materials Engineering at the University of British Columbia and worked in research and design for a local startup company. In his spare time, Roni is actively involved in Vancouver's cycling community.
Associations
Law Society of British Columbia
Canadian Bar Association
American Intellectual Property Law Association
Intellectual Property Institute of Canada (IPIC)
Member of a number of sections of the Canadian Bar Association
Vancouver Bar Association
Speaking Engagements
"Start Smart Seminar", Small Business BC – (Various dates)
Community Involvement
Secretary, Burnaby Velodrome Club (2014 to 2017)
Moot Court Judge, Peter A. Allard School of Law, University of British Columbia
Mentor, UBC Engineering Mentoring Program
Member, Intellectual Property Institute of Canada – Young Practitioners Committee, 2016-present