Garth

Leslie
Associate

B.Sc. (Mechanical Engineering)
CONTACT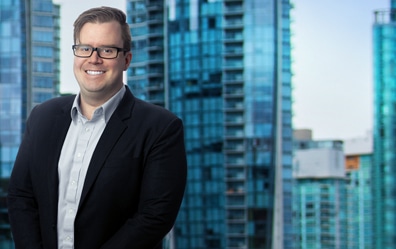 t:
604.669.3432 Ext. 8961
604.669.3432 Ext. 8961
gleslie@patentable.com
My V-Card
Connect with me
Refer

Garth
Biographical Details

Associations

Speaking Engagements
Garth Leslie assists clients with all aspects of identifying, protecting and benefiting from their intellectual property, with a particular emphasis on preparing and prosecuting patent applications in mechanical related-fields. Drawing on his previous engineering experience, Garth's practice focuses on helping clients to understand and navigate the patenting process.
Garth works with clients ranging from individual inventors to large companies and across a broad range of industries, including construction, consumer products, and industrial equipment and transportation. Garth has also assisted clients with trademark- and patent-related matters in the burgeoning cannabis industry.
Before practicing law, Garth worked in the oil and gas industry in roles relating to manufacturing and well evaluation.  After receiving his Juris Doctor from the University of Alberta, he articled and practiced with another boutique IP firm in Vancouver. Outside of work, Garth enjoys skiing or mountain biking as the seasons permit, plays several musical instruments, and has a regular tabletop gaming group.
Associations
Law Society of British Columbia
Canadian Bar Association
Speaking Engagements
Guest Lecturer, Engineering Law, Ethics and Professionalism,  British Columbia Institute of Technology, February 22, 2021