Hilton W.C.

Sue
*
Partner

Electrical Engineering
* Practicing through a Law Corporation
CONTACT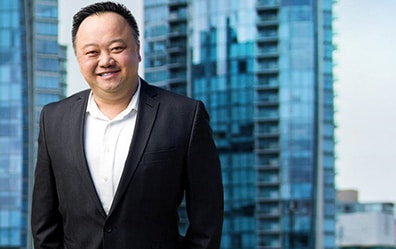 t:
604.669.3432 Ext. 8939
604.669.3432 Ext. 8939
hsue@patentable.com
My V-Card
Connect with me
Refer

Hilton
Biographical Details

News & Recognition

Associations

Speaking Engagements
Hilton Sue advises clients on all aspects of intellectual property protection, and has particular experience and expertise in: preparing and prosecuting patent, trademark and industrial design applications in Canada, the U.S. and elsewhere; strategic analysis, planning, development and management of intellectual property portfolios; and the commercialization of intellectual property, including due diligence investigations and opinions and technology transfers and licensing.
Hilton represents a broad range of clients ranging from startups to international corporations. He is the Canadian patent counsel to a multinational designer/producer of audio, electronic and infotainment systems. He also prosecutes large numbers of Canadian patent applications for a major Asian mobile phone company and is the Canadian trademark counsel for a major U.S. interactive gaming and entertainment company. Hilton also advises and assists many local clients in developing patent and trademark portfolios in multiple countries. He also has much experience in advising and assisting clients in buying, selling or licensing their intellectual property.
Hilton studied Electrical Engineering (Computer Engineering Option) at the University of British Columbia before also completing his law degree at UBC. He has received numerous awards for academic achievement, including the UBC Chancellor Scholarship, the Law Foundation of B.C. Entrance Scholarship, and others. Hilton's patent practice is primarily in the electrical/electronic, computer, communications and mechanical fields, and his training as an electrical/computer engineer prior to studying law enables him to readily understand inventions in these fields and assist/advise clients regarding how best to protect those inventions through intellectual property law.
Hilton is a Certified Licensing Professional, one of the first professionals in Canada and the USA to achieve this designation. Outside of work, Hilton is an avid traveler, foodie and amateur photographer.
Associations
Member of the Canadian Bar Association (National Intellectual Property Section and BC Intellectual Property and Technology Law Section)
Member, Fellow and past Councillor of the Intellectual Property Institute of Canada (IPIC)
Past representative of IPIC on the Patent Joint Liaison Committee with the Canadian Intellectual Property Office
Member of Licensing Executives Society (USA and Canada), Inc., and a past Trustee and Vice President of Local Chapters of the organization
Member of Board of Executives (and past Chair) of Licensing Executives Society Vancouver Chapter
Speaking Engagements
Instructor of all intellectual property law topics at Certified Licensing Professional Exam One-Day Review Course –27 October 2016, Licensing Executives Society (USA and Canada) Annual General Meeting, Vancouver