George F.

Kondor, KC
*
Partner

B.Sc. (Physiology)
* Practicing through a Law Corporation
CONTACT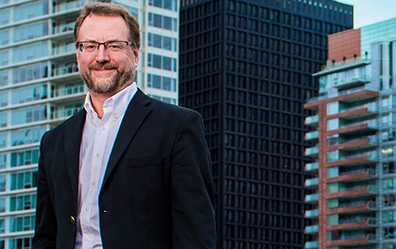 t:
604.669.3432 Ext. 9044
604.669.3432 Ext. 9044
gkondor@patentable.com
My V-Card
Connect with me
Refer

George
Biographical Details

News & Recognition

Associations

Speaking Engagements
George Kondor was born and raised in Prince George. He has been practicing with Oyen Wiggs since his call to the Bar in 1994. George studied at McGill University, the University of British Columbia, and at Hastings College of the Law, University of California.
George has a wide-ranging patent and trademark practice.  He is a Fellow of the Intellectual Property Institute of Canada (IPIC) and supports the activities of the International Trademark Association (INTA), the Association of University Technology Managers (AUTM), the Intellectual Property Owner's Association (IPO), the Patent and Trademark Association of British Columbia (PTABC) and the Canadian Corporate Counsel Association (CCCA).
George serves his profession and the intellectual property community generally as an educator, coach and mentor to lawyers, law students and the general public. As an active supporter and volunteer of the BC branch of the Canadian Bar Association, George has served on the CBABC's Professional Development and Annual Branch Conference Organizing Committees.  George is a member of the CBA's National Intellectual Property Section, and of the CBABC's Intellectual Property and Technology Law Section. George also provides pro bono counsel and mentoring to individual BC lawyers as a member of the CBABC's Intellectual Property and Technology Law Practice Advisory Panel.
In educating lawyers and law students about IP law, George has presented at various local and national CPD events, seminars and conferences. He has been a guest instructor on IP law topics at UBC, UVIC and BCIT.  He is an enthusiastic participant in the CBABC/UBC Law School Student Mentorship Program, which provides students with an early inside perspective on the legal profession and an opportunity to begin to build contact networks within the BC legal community. George has also been a career-long supporter of the CBABC's Lawyer Referral Service and provides pro bono IP legal advice to several charitable and non-profit organizations.
Away from his legal practice, George enjoys spending time with his young family. He is active in his community in a number of ways, perhaps most notably as a musician and musical administrator. George plays violin with the West Coast Symphony and has served as a member of the Board of Directors of the Vancouver Youth Symphony Orchestra, which provides the highest level of orchestral training to 300 young musicians in BC each year through 4 separate orchestras. He also enjoys auto racing and is an avid wine fan.
George was appointed Queen's Counsel (now "King's Counsel") in 2014.
Associations
Law Society of British Columbia
Canadian Bar Association
Intellectual Property Institute of Canada (IPIC)
International Trademark Association (INTA)