Nicholas

Garner
*
Partner

B.A.Sc. Mechanical Engineering
* Practicing through a Law Corporation
CONTACT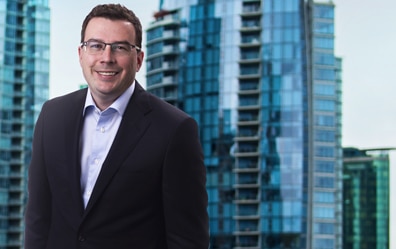 t:
604.669.3432 Ext. 9081
604.669.3432 Ext. 9081
ngarner@patentable.com
My V-Card
Refer

Nicholas
Biographical Details

Representative Matters

News & Recognition

Associations

Speaking Engagements

Community Involvement
Nick Garner is both a patent lawyer and professional engineer with particular expertise in preparing and prosecuting patent applications for inventions within the mechanical arts. Nick's client range from individual inventors and start-ups to established companies with a global presence.
He is a Canadian patent lawyer and registered patent and trademark agent with over 14 years' experience in a variety of technology. He has assisted clients in obtaining patent protection in a variety of industries including manufacturing and construction, marine products, control and sensor systems, consumer products, green technology, aerospace systems, vehicle accessories, and tool assemblies.
When not in the office, Nick chooses to live a healthy lifestyle and aims to long-distance run three times a week. You may also find him hiking the local North Shore trails or on a sail boat catching a summer breeze. Nick additionally enjoys travelling when time permits and listening to podcasts.
Representative Matters
Canadian Patent No. 3073582 for Medicament Injector and Interchangeable Cartridges Therefore
US Patent No. 11427286 for Hull Penetration Assembly, Components thereof and Methods related thereto
US Patent No. 11672349 for Chair Supporting a Person who is Feeding a Baby
Canadian Patent No. 3007875 for Protected Needle Assembly for a Hypodermic Needle
US Patent No. 10514019 for Floating Piezoelectric Assembly for Generating Energy from Waves
US Patent No. 9839915 for Impact Grinding Plant for the Communition of Ore
Patent Cooperation Treaty Patent Publication No. WO/2017/177340 for Device for Measuring a User's Oxygen-Consumption
US Patent No. 9701008 for Bit and Fastener Holder Assembly for a Power Tool
US Patent No. 10213913 for Tool Storage Assembly
US Patent No. 10163376 for Display Assembly
Associations
The Law Society of British Columbia
Canadian Bar Association
The International Trademark Association
The Intellectual Property Institute of Canada (IPIC)
The Canadian Association of Mechanical Engineers
Engineers and Geoscientists BC
Community Involvement
Sailing crew and deck hand in the annual Patent Cup Sailing Regatta