James

Nottingham
Student

B.A.Sc. Chemical Engineering
CONTACT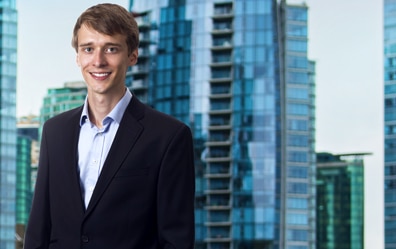 t:
604.669.3432 Ext. 8952
604.669.3432 Ext. 8952
jnottingham@patentable.com
My V-Card
Refer

James
Biographical Details

News & Recognition

Publications
James is an articling student at Oyen Wiggs Green & Mutala LLP. He completed his law degree at the Peter A. Allard School of Law.
Before studying law, James obtained a Bachelor of Applied Science in Chemical Engineering with Distinction from the University of British Columbia. During his undergraduate studies he worked as an intern at a bitumen mine, created hydraulic simulations for a debottlenecking study of a facility in Northern Alberta under the guidance of three process engineers, and interned as a mining engineering consultant in Vancouver.
In his free time, James enjoys road biking and skiing.
APEGBC Achievement Award in Engineering, 2019
Trek Excellence Scholarship for Continuing Students, 2016, 2017, 2018
Sherman Chen Scholarship in Chemical Engineering, 2017, 2018
Forty First Canadian Chemical Engineering Conference Scholarship, 2016
Publications