Craig A.

Ash
*
Partner

B.Sc. (Chemistry)
* Practicing through a Law Corporation
CONTACT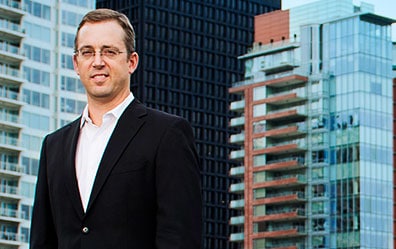 t:
604.669.3432 Ext. 9045
604.669.3432 Ext. 9045
cash@patentable.com
My V-Card
Connect with me
Refer

Craig
Biographical Details

Representative Matters

Associations

Speaking Engagements
Craig A. Ash practices in all areas of intellectual property, with an emphasis on intellectual property litigation, trademark opposition proceedings and other adversarial matters.
Craig has acted in intellectual property cases in the Federal Court of Canada, the Federal Court of Appeal and the Supreme Court of British Columbia, as well as before the Trademark Opposition Board and the World Intellectual Property Office.
Craig has enforced and defended patent, trademark, copyright and industrial design claims in a wide variety of industries, including oil & gas equipment and processes, alcoholic beverages, automotive products and services, hospitality and service industries (restaurants, hotels), construction, building products, industrial equipment, chemical products, fertilizers, financial services, entertainment and tourism, e-commerce, medical supplies, security products, publishing, furniture, nutritional supplements, clothing and other consumer products.
Craig has represented a wide variety of clients, ranging from Canadian and international businesses of all sizes, law firms, universities, municipalities, and individuals.
Craig's patent practice includes prosecuting patent applications relating to numerous fields including oil and gas equipment and processes, construction equipment, wind energy, and chemistry related technologies.
Craig also advises and represents clients in the preparation and prosecution of trademark applications in Canada, the US and other countries, providing patent and trademark validity and infringement opinions, preparing intellectual property licenses and other commercial agreements, and in securing, maintaining and protecting intellectual property portfolios.
Craig has received numerous awards for outstanding academic achievement, most notably the Law Society of British Columbia Gold Medal for being the top student in his law school graduating class. Craig was an adjunct professor of law for five years at the Peter A. Allard School of Law at the University of British Columbia, lecturing on trademark law.
Representative Matters
Successfully defended a food importer in a leading case on geographic trademarks, obtaining summary judgment and invalidating the trademark registration asserted.  MC Imports Ltd. v. AFOD Ltd., 2014 FC 1161.
Successfully represented a British Columbia business against a foreign restaurant chain, defeating an appeal from a trademark opposition in a leading case regarding distinctiveness of Canadian trademarks. Bojangles' International, LLC v. Bojangles Café Ltd., 2006 FC 657.
Successfully enforced a client's trademark against infringement in a retail services case, obtaining summary judgment which awarded an injunction and the transfer of an infringing internet domain name. D. & A.'s Pet Food 'N More Ltd. v. Seiveright, 2006 FC 175.
Successfully represented an oil and gas service company in patent infringement actions, obtaining judgments which upheld patent validity and awarded injunctions.
Successfully enforced a university's marks against infringement, obtaining judgment which included an injunction.
Represents a multinational oil and gas exploration and production company in Canadian patent matters.
Represents an international restaurant chain in enforcement of Canadian trademark rights.
Represents a significant British Columbia financial institution in trademark matters.
Represents certain British Columbia breweries in trademark matters.
Experienced in handling discovery practice and expert evidence in complex intellectual property litigation.
Adjunct Professor at the Peter A. Allard School of Law at the University of British Columbia, 2008 – 2013, lecturing on trademark law.
Associations
Law Society of British Columbia
Canadian Bar Association
Intellectual Property Institute of Canada (IPIC)
International Trademark Association (INTA)
Speaking Engagements
"Charities and Not-for-profit Conference – 2006", The Continuing Legal Education Society of British Columbia, October 27, 2006, Vancouver (speaking on official marks).
"Intellectual Property Litigation – 2004 Update", The Continuing Legal Education Society of British Columbia, October 28, 2004, Vancouver (speaking on copyright and moral rights infringement litigation).