David H.

Takagawa
Senior Associate

B.Sc. (Microbiology)
CONTACT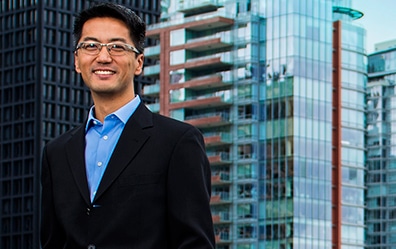 t:
604.669.3432 Ext. 8941
604.669.3432 Ext. 8941
dtakagawa@patentable.com
My V-Card
Connect with me
Refer

David
Biographical Details

Representative Matters

Associations

Publications

Speaking Engagements
David Takagawa provides practical, strategic advice on protecting his clients' technologies. With over 12 years of experience in preparing and prosecuting US, Canadian and international patent applications, David's diverse patent practice includes the life sciences, agriculture, chemicals, lighting, renewable energy, construction, and general mechanical inventions. His research background and natural curiosity assist him in working with inventors to identify commercially exploitable innovations. David also regularly prepares and prosecutes industrial design and trademark applications in Canada and the US. In addition, David advises on due diligence, licensing and transfers of intellectual property.
David joined the firm in 2004. David is also an adjunct professor at the University of British Columbia where he has taught trademarks law since 2013. David has contributed to his profession by serving as a member of the Intellectual Property Institute of Canada's Biotechnology Patents Committee and Trademark Practices Committee, as well as presenting to fellow legal professionals on various intellectual property topics through the Continuing Legal Education Society of B.C. Before his law career, David worked at local and global biotechnology companies where his research varied from peptide antibiotics to lipid regulating therapeutics. David finished among the top ten students in his law school graduating class, and later served as a law clerk at the British Columbia Court of Appeal.
Representative Matters
Patent counsel to a local biotechnology from the development to sale of its IP portfolio relating to a novel therapeutic to a multinational pharmaceutical company.
Patent and Design counsel to a local lighting technology company from the development to sale of its IP portfolio relating to novel LED luminaire technologies and designs to a multinational lighting products company.
Patent and trademark counsel to a rapidly expanding local agricultural chemicals company
Trademark counsel to local commercial and residential property developers.
Associations
Law Society of British Columbia
Canadian Bar Association
Intellectual Property Institute of Canada (IPIC)
Speaking Engagements
"Trademarks, Copyright, Patents and More", Small Business BC, Vancouver
September 23, 2016
"Intellectual Property Fundamentals", Small Business BC, Vancouver
November 20, 2015
"Intangible Business Assets – Protecting & Using Patents & Designs", CLE-TV, Vancouver
October 27, 2015
"Business Basics, Intellectual Property", Continuing Legal Education BC, Vancouver
October 3, 2013