Lawrence

Chan
Senior Counsel

B.Sc. (Honors Biochemistry)
CONTACT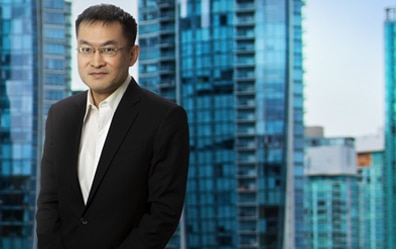 t:
604.669.3432 Ext. 8942
604.669.3432 Ext. 8942
lkchan@patentable.com
My V-Card
Connect with me
Refer

Lawrence
Biographical Details

Associations

Publications

Speaking Engagements

Community Involvement
Lawrence Chan's practice includes drafting and prosecuting patent, trademark, and industrial design applications. His patent practice focuses on inventions in the mechanical, biotechnological, and software fields. He has helped clients secure intellectual property protection in Canada and around the world. Lawrence also advises clients regarding licensing and other transactions involving intellectual property.
Lawrence is a registered Canadian patent and trademark agent and is also authorized to practice before the United States Patent and Trademark Office.
Lawrence has also assisted clients in various intellectual property litigation matters, including both infringement actions and appeals from administrative tribunals. He has appeared before the Federal Court, the Federal Court of Appeal, and the Supreme Court of British Columbia.
Prior to joining Oyen Wiggs, Lawrence articled and practiced at a boutique intellectual property firm.
Associations
Associate, Intellectual Property Institute of Canada (IPIC)
Member, Federation of Asian Canadian Lawyers (British Columbia)
Publications
"No More Promise Land", SMITHS IP website, July 2017
"Oral Arguments in AstraZeneca v. Apotex", SMITHS IP website, November 2016
"When there's a promise", SMITHS IP website, March 2016
"Eli Lilly goes after Canada under NAFTA", SMITHS IP website, October 2015
Speaking Engagements
Engineering Ethics, Law, and Professional Practice (Guest Lecturer), Simon Fraser University — (June 15, 2021, Burnaby)
Community Involvement
Member of the Public Awareness Committee and Sole/Small Practice Committee in the Intellectual Property Institute of Canada (2011-2015)
Member of the Industrial Design Committee and the Internet and Technology Committee in the Intellectual Property Institute of Canada (2021-present)
Panelist at the Science Writers and Communicators of Canada Conference (2018)
Instructor for the Intellectual Property Institute of Canada's patent agent training course (2010)