Thomas W.

Bailey
*
Partner

B.Sc. (Cellular Biology)
* Practicing through a Law Corporation
CONTACT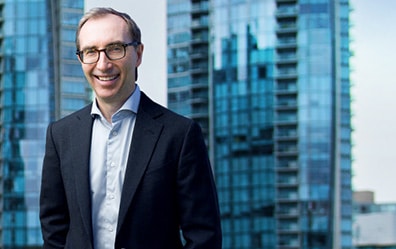 t:
604.669.3432 Ext. 8938
604.669.3432 Ext. 8938
tbailey@patentable.com
My V-Card
Refer

Thomas
Biographical Details

Representative Matters

News & Recognition

Associations

Publications

Speaking Engagements

Community Involvement
Thomas Bailey (Tom) practices in all areas of intellectual property law with a particular focus on patent prosecution in the fields of biotechnology and medical devices. Tom acts on behalf of a wide variety of clients including individual entrepreneurs, start-up companies, established business enterprises, universities and local and foreign law firms. He has extensive experience assisting clients in protecting their intellectual property worldwide and managing large patent and trademark portfolios.
In addition to biotech subject matter, Tom has acted as patent and trademark counsel for clients in such diverse fields as fuel cells, nanotechnology, wastewater treatment, construction materials, consumer products, sporting goods, footwear, and apparel. Tom has particular expertise and experience protecting industrial designs in Canada and elsewhere. He is also very familiar with plant breeders' rights protection.
Tom finished among the top ten students in his law school graduating class. He joined the firm in 1988 following his call to the Bar in British Columbia and has been a partner since 1995. He has been involved in legal education for many years and is presently an adjunct professor at the Peter A. Allard School of Law at the University of British Columbia where he lectures on patents. He is also a coach of the law school Oxford Intellectual Property Moot team. He has been selected for inclusion in Best Lawyers in Canada in the field of Intellectual Property Law and Who's Who Legal Canada in the Patents practice area.
Outside of work, Tom enjoys sporting and outdoor activities with his family including soccer, trail running, skiing and surfing.
Representative Matters
Patent counsel to a local university protecting inventions in such fields as pharmaceuticals, microarrays, DNA/RNA constructs, biological assays and organic and inorganic chemistry.
Patent counsel to a company developing fusion proteins for treatment of cancer, viral diseases and anemia.
Patent counsel to a company developing dental appliances for treatment of obstructive sleep apnea.
Trademark counsel to a company selling apparel in Canada, the United States, Europe and Asia.
Associations
Law Society of British Columbia
Canadian Bar Association
Intellectual Property Institute of Canada (IPIC)
Industrial Design Committee, Intellectual Property Institute of Canada
Speaking Engagements
"Patent Law", Peter A. Allard School of Law, University of British Columbia (February, 2016)
Community Involvement
Adjunct Professor, Intellectual Property Law, Peter A. Allard School of Law, University of British Columbia (1994 to present)