CONTACT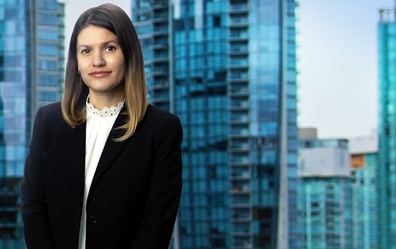 t:
604.669.3432 Ext. 8966
604.669.3432 Ext. 8966
mhutanu@patentable.com
My V-Card
Connect with me
Refer

Mihaela
Biographical Details

Associations

Publications

Speaking Engagements

Community Involvement
Mihaela Hutanu is a registered trademark agent who guides clients through trademark strategy and development, registrability searches and opinions, and the drafting and prosecution of trademark applications. She represents clients from diverse sectors before the Canadian Intellectual Property Office and the United States Patent and Trademark Office. Her clients include individuals, national and international companies, and law firms.
Mihaela also assists clients with trademark opposition and cancellation proceedings, and the management and maintenance of domestic and international trademark portfolios. She collaborates with lawyers on monitoring for trademark infringement, and subsequent trademark litigation.
Mihaela completed her law degree at the Alexandru loan Cuza University, in Romania. After practicing as a lawyer in Romania, she moved to Vancouver where she joined a boutique IP law firm as a Legal Assistant, later becoming a Trademark Agent.
Mihaela enjoys spending time outdoors hiking and biking, traveling and reading.
Associations
Intellectual Property Institute of Canada
Member of Trademark Committee, 2019-present
Member of the Women in IP Community Committee 2019- present
Member of the Sole and Small Practice Community Committee 2019-2021
Member of the Young Practitioners Committee 2015-2017
International Trademark Association
Member of Trademark Office Practices Committee 2016- 2017; 2018-2019
Member of Legislation and Regulation Committee 2020-2022
Member of Pro Bono Committee, 2022
Member of the Romanian Bar Association
Community Involvement
Member of the Parent Teacher Association, Saint Francis Xavier School, 2013-2021